The Indian government on Thursday unveiled the web-based GrapeNet software developed by Agricultural and Processed Food Products Export Development Authority (APEDA). It will provide traceability regarding the table grapes exported from India to European Union (EU).
Launching the software in New Delhi, Minister of State for Commerce Jairam Ramesh said: " Importers, export regulation authorities here and abroad, or anyone using it can access the information on a computer at will about any grape export transaction."
The present level of exports (2005-06) is of the order of about 40 million Euros. About 55,000 MT of grapes were exported in 2005-06 out of a total production of around 1.5 million MT. Maharashtra alone exports 80% of the total.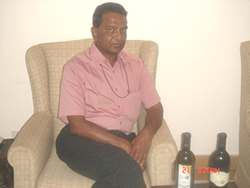 Mr. Ashok Gaikwad, the Chairman of N.D. Wines, in Nashik has been exporting quality grapes since 1993. He is one of the biggest exporters from this region. Also the President of Maharashtra Grape Growers Association, he exports to supermarket chains like Tesco and Sainsbury.
Reflecting in a personal interview with him last week, he conceded that the export had indeed suffered 3-4 years ago due to excess of MRL- Minimal Residue Level. 'We do not use banned chemicals anymore and do the chemical spraying at least 60 days before the harvesting. We also send the samples regularly for checks for MRL regularly to the lab. We have sorted out the quality complaints moving ahead with improving quality as well as quantity,' he said.
Officials confirm that this software will help in raising the confidence of importers by enabling monitoring of pesticide residue and by achieving product standardization and thus boost grape exports to EU.
In the last few years, Indian grapes exported to European Union had met with quality complaints from importers. In 2003, the European Commission had issued 17 rapid alert notifications on the ground of detection of high levels of pesticide residues in Indian grapes.
APEDA officials also mirror Gaikwad's sentiments about the quality and affirmed that the quality complaints have been fully resolved, and the new software would give a further fillip to ensure better quality of grape exports from India.
Traceability has helped 40,000 grape growers like Ashok Gaikwad to apply uniform farming practices. There is complete accountability in the system and consequently, farmers have earned 40% more value for their grapes. Export value has grown from €8 to €11.5 for a pack of 5 kg in 06-07
With the export price of Thompson Seedless and Flaming grapes ruling at more than 3 times that of wine grapes it appears to be a better proposition for the Nashik farmers . Wine grapes fetch between Rs.25-Rs.35 a kg. (€0.60) compared to over € 2.00 a kg. for the grapes for export. Even after accounting for much less yield and more spraying and better viticulture practices it seems to be more remunerative. The software should tilt the balance more in the favour of table grapes for export.
Yet Mr. Gaikwad and his partners have hedged their bets and opted to grow wine grapes as well and make their own wine too, which apart from being sold in bulk to Sula is being sold in the domestic market under ND label as well. 'This is our diversification move, as wine is becoming more popular,' says Manik Patil, a grape grower and one of the five Directors.
It seems certain that with the help of the software developed with the help of APEDA, the quality of grapes for exports will get even better and so will the turnover, reflecting a bright future for the quality of wine grapes as well.
Resource: www.comodityonline.com