Bernard de LAAGE de MEUX, Development Manager of the Chateau Palmer in Margaux was passing Delhi to meet clients of this highly prestigious 3rd growth chateau. Subhash Arora writes about the discussion he had with him regarding the wine s of Chateau Palmer and other Bordeaux classified chateaux.

Presidents Bush and Chirac don't concur on several subjects. For a start, the U.S. President would like to address Chateau Palmer as 'Pahm-er', whereas his French counterpart and the citizenry call it 'Pahl-mare'. However, wine lovers from both the countries equally love wines from this third growth majestically looking Chateau in Margaux, standing near Ch. Margaux. 'Recently a wine collector in the US contacted us to help him re-cork 50 cases of our 1961 vintage stored in his personal collection!' mused Bernard de LAAGE de MEUX, Development Manager, at a vertical tasting of the Chateau wines of '02, '99, '97, 96 at Hotel Oberoi on Monday.
'1961 was one of our best vintages and generally in Bordeaux. This client had bought and saved huge quantity and was in no hurry to finish them because of the tremendous aging potential of this vintage', he said. Bernard who has grown up in and around Bordeaux, swimming in Bordeaux wines for over 30 years, with a short sojourn in Cognac to change his palate for the more heady, distilled brandy is very passionate about his wines.
He has been visiting various clients of Brindco through whom they are exporting to India. When I quizzed him whether they still sell through broker-negoci`ants he replied in affirmative. 'They still are a very strong marketing channel and control the distribution system for the classified chateaux. Some people tried to move away from this system in the competitive environment but they did not succeed. Of course, now we give a lot of direct support to our customers, like, in India. And we deal with only a handful of 12 or so unlike many who sell through a hundred or so'.
'Ch. Palmer is a 52 Ha property (appx. 130 acres) situated on the low rising hills of Margaux and Cantenac like most of top chateaux,' informs Bernard. 'Drainage is very important as it rains 1000ml every year in Bordeaux. The resulting ripening acidity giving the ageing potential and our centuries of experience in winemaking gives us an edge. We have also discovered that with almost same proportion of Merlot and Cabernet Sauvignon our wines develop more aromatic complexity.' No wonder Robert Parker asserts that one can tell the Palmer wines apart simply by nosing.
For Ch. Palmer the grape variety is only a component between the soil and the final product. 'We could change our typicity but we won't,' says he with conviction. 'Most chateaux use blends with 70% or more Cabernets in Me`doc, barring perhaps Cos d'Estournel which has started using 40% Merlot for the last few years'. Over the last 20-30 years the style has changed only slightly. We are not making powerful, garage wines with over-extraction. Surely, we have made them more approachable. We keep the finesse and elegance, ' he claims.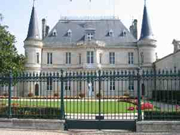 Changing with the marketing environment, Ch Palmer developed Alter Ego, starting in 1998. 'The earlier 'second wine' named La Reserve de General, of which 0-2000 cases were produced annually was discontinued and is now sold as bulk wine. Instead, we produce 11-12000 cases of Palmer down from about 20000 cases earlier. The younger drinking, more fruit drinking Alter Ego with annual production of 7-8000 cases are a preferred choice of the younger people. I must clarify that it is our second label and not second wine,' he asserted.' Each one of our parcels has the potential of making a top Palmer wine. It is thus the result of not the selection of terroir but only different style of making wine.'
The tasting of two Alter Ego 2003 and 2001 preceded the vertical tastings. Why did he not bring the more prestigious '89, I asked him. 'It drank beautifully earlier but is closed now'.'90 is drinking beautifully now. Even 1996 and '97 are drinking well though, obviously, they will go very far in terms of maturing.'95 is still not shining either.' And which are the great vintages in the recent times? ' I would say '83,'85', '88, '89 and '90', he said confidently. Although '97 doesn't have a good market reputation, I like it very much.'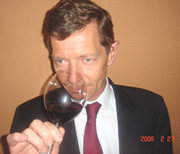 Ch Palmer wines can age 100 years or more in great vintages. ' The oldest vintage I have tasted is 1869. I also have had the pleasure of tasting 1899, 1907, 1921, 1928 and the more recent 1934. But all these tastings have been in the US where the collectors love to share their rare wines,' he says smilingly. So how big is the cache of these old collectible? 'Not much', he rues. 'We recently found a couple of bottles of 1875'.' Perhaps many changes in ownership have the answer. General Palmer of the British Army bought the property in 1814. It was sold to Pe`riere banker brothers in 1853. During the depression in 1930, the property was sold to a family of Bordeaux negociants - belonging to England, France and Holland who restored Palmer's reputation to one of the finest in Bordeaux.
The 2005 is supposed to be perhaps the best vintage after 1945, which was considered the best in the previous century. Barrel tasting happens in April and it will be available En Primeur shortly afterwards. Go and get some. You will be glad you did! It might turn out to be the next best investment to buying property in Gurgaon.
Subhash Arora
February 28, 2006