Whenever Alessia Antinori, the eldest of the three daughters of Italy's wine mogul, Piero Antinori, lands in India, she gets the feeling that she's going to return. It's the feeling you get when you drink her family's anthemic wines. You know that you are going to ask for more. "I fell in love with this country when I first came here ten years back," Alessia, 31, told www.indianwineacademy.com . "It is emerging as an important market for wine, but I don't come here only to do business," said the charming woman who has experienced India from Ladakh to Varanasi, to the Andamans in the Bay of Bengal.
Representing the 26 th generation of the wine-making family that traces its roots back to 1385 (as Sanjay Menon of Sonarys, the Indian importer of Antinori wines, was to say on another occasion, "It is very hard to find a family that can trace its history so far back in time"), Alessia began her fifth visit to India – the first to be devoted only to business – with a presentation of the Peppoli Chianti Classico DOCG 2003 at a tasting of 12 top Italian wines organised by the Istituto del Vino Italiano di Qualita Grandi Marchi. Alessia was sharing the spotlight with representatives of 11 other family-owned Italian wine superbrands and she spoke with passion of her family's "obsession with quality." There have been occasions, she said, when her father had held back certain wines just because the vintage wasn't right. It happened as recently as 2002, which was a horrible year for the industry in Italy.
As she introduced the Peppoli – a 90% Sangiovese with Merlot and Syrah, full of velvety tannins, and a heavenly match for a gently spiced mutton seekh kebab or a butter chicken – she made a significant point. It is important for a wine company to be family-owned, to resist the pressure to sell out to big bucks, Alessia pointed out, because "it's the only way to transmit passion and quality from generation to generation." Making wine, as she kept reminding us, was all about passion and it showed in the Peppoli. But it was only the teaser. A couple of days after the Grandi Marchi tasting, Sanjay and Alessia, along with the Hyatt Regency Delhi, had conjured up a memorable treat for the members of the Delhi Wine Club. The evening was planned in such a way that Alessia could guide us literally up the Antinori value chain, beginning with a Franciacorta, the sparkling wine from North-West Italy that many regard as Champagne's most serious challenger yet. Alessia has been working on this sparkling wine ever since her father acquired the estate some time back (she insists she's first and foremost an oenologist, although she's heading the exports division).
When the Franciacorta, a delicious symphony of Chardonnay, Pinot Blanc and Pinot Noir created by Alessia with evident affection, was being served, Sanjay, who made a fashion statement with his immaculate Jodhpuris (his wife Sonali, who has grown up in Mumbai, is from Jodhpur), asked the guests to repeat the word 'Champagne' aloud three times. He followed it up with 'Franciacorta' and then asked the question:
"Tell me, which has more libido?" The sparkler certainly did.
Speaking that evening, Delhi Wine Club (and Indian Wine Academy) President, Subhash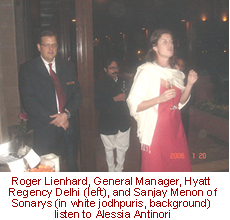 Arora, said he had not seen the word 'beautiful' being used to describe a wine. "Seeing Alessia and drinking her sparkling wine," he said, "I'm sure we can introduce it in our wine vocabulary." As the evening progressed, a member of the club declared, "Alessia, your name should have been Delicia."
It was only appropriate that the dinner was being held at La Piazza, the country's finest, and most successful, Italian restaurant, in a hotel whose Swiss General Manager, Roger Lienhard , is a big fan of Tignanello, the iconoclastic Antinori wine that was released in 1975, after its creators, Piero Antinori and his incredibly talented wine-maker Giacomo Tachis, decided to reinvent the Tuscan wine by creating a revolutionary blend of 80% Sangiovese and 20% Cabernet Sauvignon and Cabernet Franc. In the last six months, Linehard, a former executive chef with a vast experience of managing kitchens in the finest hotels of Australia, Macao and Indonesia, has also fixed the supply lines of La Piazza to make sure the ingredients are as authentic as they can get.
The dinner progressed from the basic wines – the intensely floral Villa Antinori (a blend of 80% Trebbiano and Malvasia and 20% Chardonnay), followed by the fresh and fruity Santa Cristina (90% Sangiovese and 10% Merlot), whose lusciously soft tannins tickled the tastebuds – to the medium-bodied La Braccesca, a Vino Nobile di Montepulciano, which left a fresh aftertaste of plums, and Tenute Marchese Antinori Chianti Classico Riserva, a full-bodied, well-rounded red wine of remarkable depth and structure with hints of cherry and tobacco on the nose.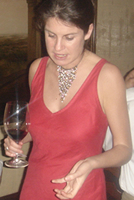 The dinner's stars were the Tignanello 2001 and Pian delle Vigne Brunello di Montalcino 1998, which is the creation of Giancomo's successor, Renzo Cotarella. The jury, though, was divided. One-half of the guests (and I belonged to this half) said the Tignanello had yet to open up fully, but it was rich and complex in the mouth with exceptional structure and a lengthy finish, but the Brunello merited the praise lavished on it by Wine Spectator : "Extremely well-crafted, as usual. Fabulous aromas of strawberries and cream that turn to minerals and spices. Full-bodied with very silky tannins and a long, long finish."
The other half loved the mix of reserve and class of the Tignanello. She's like a lady who's so confident about her charms that she doesn't feel the need to flaunt them. I arrived at the conclusion that the Tignanello tasted like magic with rack of lamb.
It reminded me of Arora's theory that each wine must get two ratings – first, which is the standard practice, without food, and the second, with food. Wine and food pairing ratings are as important as stand-alone wine ratings.
At the end, a sweet surprise awaited us in the form of Muffato della Sala, a dessert wine (60% Sauvignon Blanc and 40% Grechetto, Traminer and Riesling) from the Umbrian Castello della Sala, which makes one of Italy's best white wines, Cervaro della Sala, another Cotarella invention with Chardonnay and Grechetto. It's one of finest dessert wines I've had in a long time.
For a wine dinner to be perfect, the food has to match the greatness of the wine without challenging it. The menu matched magically with the accompanying wines. It's hard to forget such experiences in a hurry.
ANTINORI WINE DINNER AT LA PIAZZA, HYATT REGENCY DELHI
Entree
Polenta with Taleggio, sautéed spinach and morel mushroom sauce.
Wine: Villa Antinori Toscana IGT 2003
Soup
Cream of yellow pumpkin and barley
Wine: Santa Cristina 2003
First Course
Spelt-flour spaghetti with cherry tomatoes in an Amatriciana sauce
[Or] Tortellini with eggplant and smoked Pecorino
Wines: La Braccesca Vino Nobile di Montepulciano DOCG 2000 and Tenute Marchese Antinori Chianti Classico Riserva DOCG 2001
Sorbet
Strawberry and spumante sherbet
Main Course
Timbale of red and yellow bell peppers served with fried zucchini flower
[Or] Chicken breast filled with ricotta and spinach in Marsala sauce, served with eggplant and mint-filled roasted onion
[Or] Oven-baked rack of lamb in pistachio crust with bitter chocolate sauce, served with mashed potatoes and grilled cepes
Wines: Tignanello 2001 and Pian delle Vigne 1998
Dessert Icy cherry soufflé with kirsch sabayone
Wine: Muffato della Sala 2001
Coffee or tea with Tignanello Grappa
** For Subhash Arora's comments on the Antinori dinner, follow this link: http://www.delhiwineclub.com/EVENTS/Antinori_Wine_Dinner.asp