Riding on the topicality and popularity of Louis Vuitton 32 nd America 's Cup Finals being held in Valencia since last Monday through July, Vinoélite debuted with the first edition of the biennial international fine wine show from April 18-20 at the Feria Valencia. President of the Indian Wine Academy, Subhash Arora reports.
Due to insufficient winds the Cup races failed to take place during the first four days. But the race schedules take into account such vagaries of nature. The first Round Robin race between the Italian and New Zealander yachtsmen, did take place on the last day of the Fair, when the Old World defeated the New World by a whisker.
Vinoélite also failed to reveal its international character at its first outing. But it will now have its chance only after two years of efforts to achieve this target. The show attended by 1400 trade professionals on the first day, perhaps achieved its number target of 5000.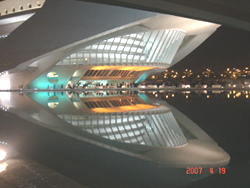 Tasting of 41 Valencian Wines at the Palace of Arts
David Álvarez , the patriarch of a huge industrial empire that includes the legendry Vega Sicilia, is also the President of the organising committee of Vinoélite. Talking about the Show, he says, 'It hosts a select group of 180 wineries and distilleries from all over the world, who come to present their best wines and liquors, their new production and projects. Its goal is. to become a leading worldwide event.'
Vega Sicilia is also a member of FVP, Primum Familae Vini- an association of 12 (currently 11 after Robert Mondavi left on selling to Constellation Brands) family owned prestigious wineries. One of the conditions of this group is that when they conduct joint tastings and events in different parts of the world where one member of the family should be present. David did influence this group to take part in the show, giving it the only international character.
FVP Tasting certainly was the highlight of the Fair. A planned visit by 16 Master of Wines who had been invited to Spain and ended up at the Show as the grand finale was another.
But if one were to remove this group from the list of participants, there were less than 80 exhibitors, practically all Spanish, with over a quarter being from Valencia province alone.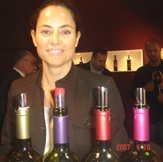 It was not surprising when Marta Valsangiacomo , the beautiful winery owner and one of the two Vice Presidents of the Organising Committee told me at the Gala Tasting Evening of 41 Valencian wines with Tapas, at the gorgeous Palace of Arts complex that she was extremely happy with the response to the Show.
'Many people who did not participate this year have already told us they want to participate in 2009. Some have even suggested making it an annual show.' When I reminded her that there was no international participation really and it shows traces of being a local Valencian show, she added, 'only a fourth of the participants are from Valencia . Rest are from all over Spain . The important thing is that sommeliers and people from the restaurants have been coming. That is a good sign for us. And we want the show to be mainly for Spanish wineries and buyers. Of course, we are happy to showcase them to international buyers and journalists like you.'
Undoubtedly, the show provided a great opportunity to taste some excellent value for money wines from the region. Wines from her own winery Bodegas Valsangiacomo in Chiva, near Valencia , cost between € 2-5 ex cellars and are perfect examples of good value-for-money wines. Several of the regional wineries whose vineyards we visited or wines we tasted, including Alvarez Nölting, Bodegas Emilio Clemente, Chozas Carrascal, Dominio de la Vega, Vicente Gandia, Sebiran produce some good wines and have a great potential overseas.
The show did fall short of the 'fine wine' USP it claimed, like e.g., the wines from FPV. Many fine wine producers whom I had met earlier, especially from Rioja, Ribera, Toro, Nevarra stayed away with the wait-and-watch approach. Sara Fernandez Bengoa, the export manager of Roda winery in Rioja told me in Delhi during her recent visit with a Spanish delegation, 'we are not taking part in the show this time. We want to make sure that the wineries represented at the Show are worthy of the title. We shall decide only after seeing the quality of participation.' Roda produces only fine red wines including the internationally acclaimed Cirsion and are constant fixtures at most wine events.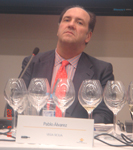 Similar comment was made by Pablo Alvarez , Co-President of the organising committee in a chat with me after the FVP Tasting. The CEO of Vega Sicilia and the younger brother of David, he said,' it is going to be tough for a show like this to sustain. There are so many like this already. Next time when there is no America 's Cup, they will have to work even harder.'
'With your support, won't the Show attract better quality participants? 'I asked. 'I am a wine producer. I cannot offer them an administrative hand. It is for the show authorities to decide what they want to do. Of course, we shall give them all support needed,' he added.
To be sure, participation by many fine wine producers including Enate, Peñafil, Fariña, Malaga Virgen, Jaro, Pago Marques de Griñon, Pago de Tharsys, Felix Callejo, Viña Pedrosa added lustre to the Event. But many felt that the prerequisites were compromised to accommodate participants to get the numbers.
Only one of the participants, Enate has made an Indian foray in India through Sonarys. The show would have been of great interest to the Indian importers wishing to add Spanish wines to their portfolio. Several value wines between € 2-5 were available for the picking. Even premium wines, costing €10-20 ex cellar, offered some excellent choices.
Vinoélite has had a good performance as a rookie. Undoubtedly, the venue is state-of-the-art with some highly singular architectural features. The imposing glass structures signify Spain going from traditional to modern style, just like their wines. The stands were well erected giving plenty of space and atmosphere for tasting, including instant freezers for faster cooling (numbering of stand was poor though-non existent actually). Tasting glasses designed specially for the show by Rona have perhaps gone a notch higher than Riedel. Valencia is a beautiful city to visit and the infrastructure created for the America 's Cup will add even more excitement to it.
The 'hardware'- infrastructure, in short, is well in place. But the issue of 'Software' will need to be addressed to, in order to give it the image of an international and fine wine show. The organisers will need to look beyond the FVP stars and the MWs to attract more of domestic fine wine producers, international participants or the buyers
Otherwise, the show runs the risk of being relegated to a domestic biennial wine show.