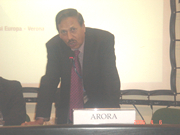 "Please do not fall into the trap of considering 200 million middle-class Indians being the potential wine market you hope to tap." With these words, I struck a note of caution at a conference on 'Italian Wines and Emerging Markets: India' organised during Vinitaly 2006 by Confagricoltura, an Italian association of fruit growers and producers.
I was speaking after a lucid power point presentation made by Vittorio Mecozzi, the Italian Trade Commissioner in Mumbai. Peppering his talk with statistics, which my colleague, Sourish Bhattacharyya, disputes on the basis of Rabo Bank figures that are accepted by the government and the industry, Mecozzi was bullish on India.
He talked about the increasing disposable income of the youth, the greater availability and visibility of wines, and the growing acceptance of the wine culture in the metros. Growing private investment in the existing wineries was also a positive sign as was the potential wine market of "200 million people."
I may have dampened the enthusiasm, but I thought I should add a dose of realism to the proceeding. "We have to consider the social and religious factors as well," I said. "Most middle-class Indians don't consume alcohol at all because they consider it to be a taboo. Those who enjoy their tipple are overwhelmingly loyal to whisky, rum, gin and vodka, in exactly that order. It may take years before existing habits can be changed," I said, adding that a market of 20-30 million people was more realistic target audience. By no means, it is a small number.
"You should also know that Indians love Italian food and generally love Italy as a tourist destination. Your sales strategies should take this faction into consideration," I advised the audience. Warning them about the quality-price ratio, I said Indians are very price sensitive. "No doubt, we have the Gajas and the Antinoris selling at one end of the spectrum, but this is a very small segment," I said. "Chilean wine sales, on the other hand, grew by 120% in 2005 because the customer finds them good value-for-money wines."
Commending Veronafiere and the Italian Trade Commission for organising the historic participation of 64 producers at Vinitaly India in January 2006, which saw giants like Gaja, Antinori, Masi, Folinari, Pio Cesare and others, I strongly urged the Italians to continue participating in the future.
"Please keep in mind that Indian wine drinkers are also climbing the quality ladder. The Indian Wine Academy and Delhi Wine Club are the two premier institutions promoting wine as a mission, but we also encourage people to drink better wine, even if it means drinking less," I said.
Replying to a young American wine consultant with Remi Cointreau, Jennifer Simonetti who was getting ready for her Master of Wine exams in July, I dwelt on the apparent dichotomy in the Indian wine culture. "Due to a lack of knowledge, too many of us have been drinking too much of bad wine, mostly French, assuming that they'd be good just because they are French," I said. "If budgets are a constraint, especially because of the high federal duties and state taxes, we should focus on value-for-money but better-quality wines. We must give up the bad habit of paying high prices for cheap table wine due to ignorance. This is the message we are trying to give to wine drinkers."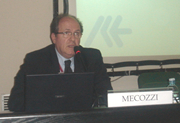 Mecozzi, in fact, recognised the Indian Wine Academy as an organisation in the forefront of wine promotion in the country. He also acknowledged the efforts of the Delhi Wine Club and its Gurgaon Chapter, and the other wine clubs in Hyderabad, Bangalore and Chandigarh to promote the wine culture.
Italy's Vice Minister for Agriculture, Teresio Delfino, inaugurated the conference with the plea that "the Italian wine industry should focus on quality and find out new markets with a focused marketing plan."
Other speakers included Federico Castellucci, Director-General of OIV (International Organisation of Vines and Wines, the UN-type world body of wine producers and consumers based in Paris.
Castellucci had visited India a few months earlier and had attended the Pune conference on grapes, meeting several Indian producers. He had encouraging words to say about the Indian market and spoke of its salience in the marketing plans of wine exporters.
Looking at the interest evinced by the audience, I see many new Italian wines coming to India very soon. Who knows, some of them may even want to have a bigger share of the pie and join hands with Indian wine producers and together expand their market share?
Subhash Arora , President of Indian Wine Academy had been invited to the Vinitaly International Wine Competition as a jurist last month. He was also invited to be one of the speakers at this Conference held later during Vinitaly